Having a graduation photoshoot is an excellent way to commemorate your incredible achievement. There are hundreds of thousands of graduates for 2022 – Nanyang Technological University alone has more than ten thousand graduates this year! Clearly, a momentous event like your moving up celebration deserves the best graduation photoshoot studio in Singapore. So, we gathered the best studios offering graduation photography services!
What Should I Do For Graduation Photos?
Graduation photos are a commemoration of your achievement. Your graduation is the most significant milestone you can attain as a student. So using a cellphone camera or even a digital handheld camera just won't cut it. Indeed, your parents are super proud of you, and they'd want a lovely portrait of you. So go ahead and hire a professional photographer who can provide various services and hold your session in a professional graduation photo studio with several backdrop choices. You can also bring your loved ones into the session for a family portrait. Lastly, don't forget to bring your graduation gown and other fun props for the candid shots!
Why Graduation Photos Are Worth It
Graduation is one of the most significant memories in life. So capturing this moment will remind you of all the hard work you've done. A graduation portrait is a cherished item not just for yourself but also for your parents and other family members. This also allows you and your family to reflect on your finest moment for years to come.
Now that we've established why a professionally captured graduation photo is a must, I've gathered the best seven best graduation photoshoot studios in Singapore!
1. Oh Dear Studio By Melody Ling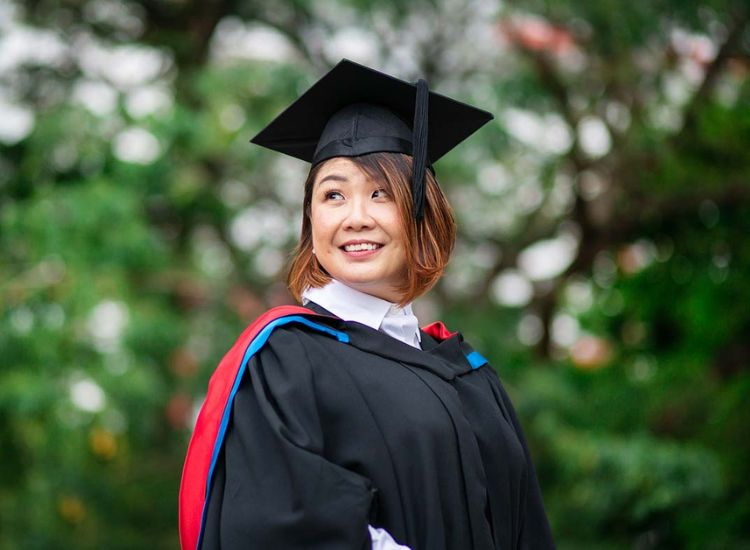 Oh Dear Studio is a professional photography studio that caters to your graduation photoshoot needs. The studio is located in a quaint, naturally lit colonial shophouse on Kampong Bahru Road. The company, managed by veteran photographer Melody Ling, has been in the business for over eight years. She also specializes in graduation photoshoots and family portraits.
If you want a good photography studio that can accommodate an entire family, Oh Dear Studio is highly recommended. Melody Ling is fluent in several languages, including Mandarin. Plus, she has a knack for helping elderly clients – so go ahead and bring your grandparents to the session too!
Ling's work has caught the attention of many media outlets, including Singapore Tatler, The Sunday Times, The Strait Times, and Singapore's Finest. Several websites have also listed her as one of Singapore's top family photographers.
If you want to hire Melody Ling for a solo or family graduation photoshoot, you can check out the packages on Oh Dear Studio's website. Depending on the number of shots you need, or how many hours it takes to complete the photo shoot, prices may vary from $390 to $690. You can also upgrade your package to include some nifty add-ons. Some options include additional digital soft copies, large canvas prints (to present as a gift to your parents or grandparents), fine art framing, and high-definition metal prints.
Why You Should Choose Oh Dear Studio By Melody Ling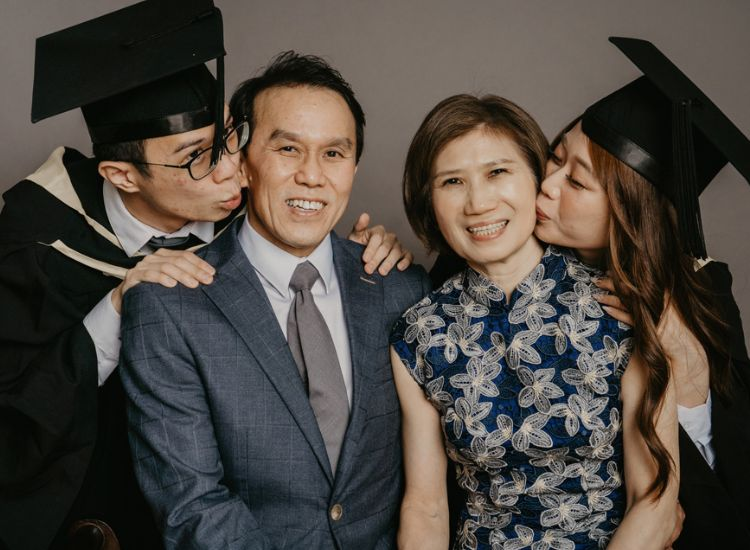 Melody Ling's eight years of experience have made her one of the most prolific photographers in Singapore. She can take excellent photos of students' graduation, families, babies, kids, etc. Besides her exemplary work, Melody Ling has made a lot of clients happy. Oh Dear Studio's website has an extensive list of testimonials from her past clients. Some clients described her as "good in capturing emotions" and "always prepared with little tricks up her sleeve" when dealing with kids.
Rates:
Oh Dear Studio
2. Mount Studio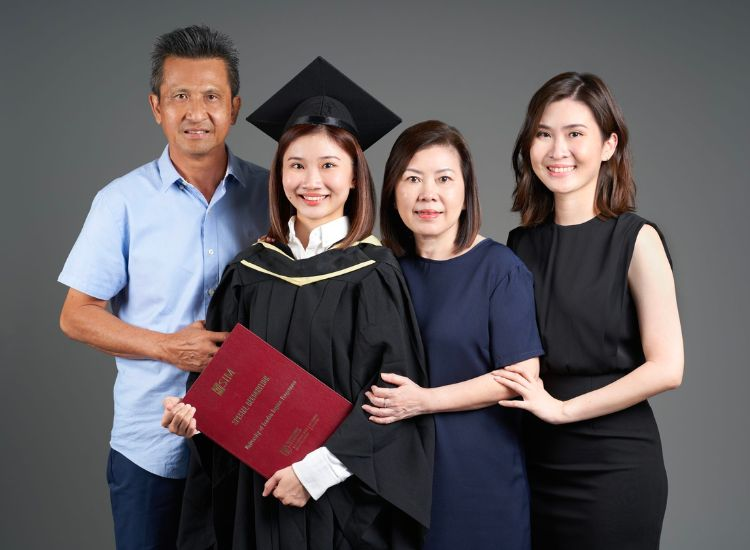 Mount Studio provides a vast array of services, including graduation photography, family photoshoot, baby photography, and more. In 2019, Mount Studio expanded to a 2,400 square feet space. Having this ample space can easily accommodate graduation family photos. If you have a large extended family and you're planning to celebrate your milestone with a fun family photo shoot, you may want to check out Mount Studio in Jalam Pemimpin.
Co-founders Lyn Averson and Lili Pan currently manage the studio together. Lyn Averson is an award-winning fashion photographer who has worked in extensive photography campaigns, editorial shoots, as well as e-commerce projects. Her artistry and astounding images have garnered some of Singapore's biggest clients, such as Charles and Keith, Zalora, Heatwave, and Bossini, among others. Meanwhile, Lili Pan is a distinguished digital marketing specialist. She has worked with a range of clients, including Google, Dropbox, Honda, Toyota, and more. Apart from big clients, the co-founders have also worked with private clients.
Mount Studio currently has four photographers on the team. Since you're taking your graduation photos, you can ask the studio for Edmund. Photographer and videographer Edmund specializes in taking photos of important events like graduations, weddings, and other important events. In 2017, Edmund won first place at the prestigious Canon PhotoMarathon Competition. Two years later, his critically-acclaimed film received a special mention from the ciNE65 Movie Makers Award.
Why You Should Choose Mount Studio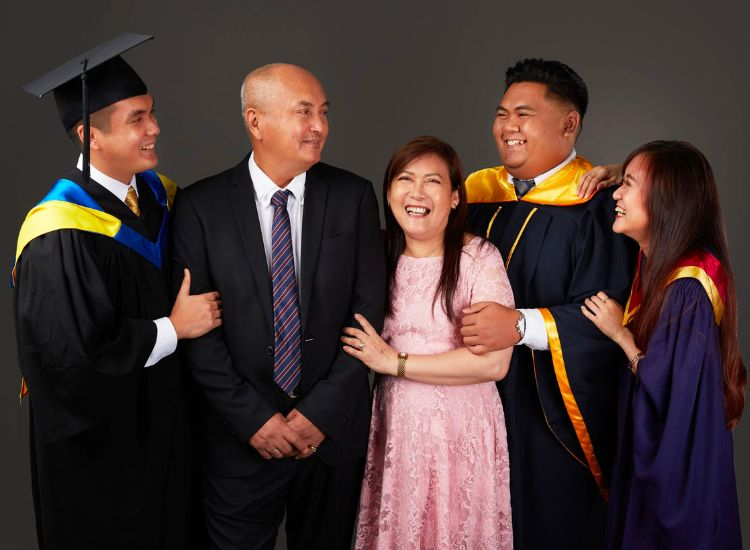 If you want to bring your family members to your photoshoot, Mount Studio is highly recommended due to its size. The 2,400 square feet will accommodate even the biggest families. Besides the studio's size, Mount Studio has a photographer specializing in graduation photos. This ensures that images are high quality and the service provided is fuss-free. If you decide to engage Mount Studio for your graduation photos, you'll indeed have an enjoyable time.
Rates:
$480 for the graduation photo package
Mount Studio
Contact number: +65 8875 8092
Address: Foo Wah Industrial Building, 45 Jalan Pemimpin #07-04 Singapore 577197
Website: mountstudio.com.sg
3. Beauty Box Studio
If you're looking for a photography service that is tried and tested by thousands of clients, you may consider checking out Beauty Box Studio. Their studio is located at North Bridge Road, close to Bugis Shopping Mall. Since 1998, the Beauty Box Studio has operating and taking photos of everyday Singaporeans and corporate clients. Led by creative director, Christopher Ong, Beauty Box Studio has 23 years of experience under its helm. The studio's head photographer, Elvin Toh Wei Jie, will capture you and your family's emotions during your best moments. Elvin also has talent in capturing your photos in a natural light setting, making him a good choice for outdoor shoots.
Beauty Box Studio can accommodate your needs, whether you prefer casual or formal style images. The studio's staff includes a makeup artist and a stylist. The studio manager, Muush, will ensure everything goes smoothly during your photoshoot. According to the company's website, he has been with Beauty Box Studio for more than 19 years and has been running a tight ship!
Beauty Box Studio offers a wide range of packages that may fit your requirement. Depending on the number of people you are planning to bring, you can avail of their graduation photography package or the family sessions package. You can also opt for an outdoor photoshoot if you want your photographer to capture you in natural lighting.
Why You Should Choose Beauty Box Studio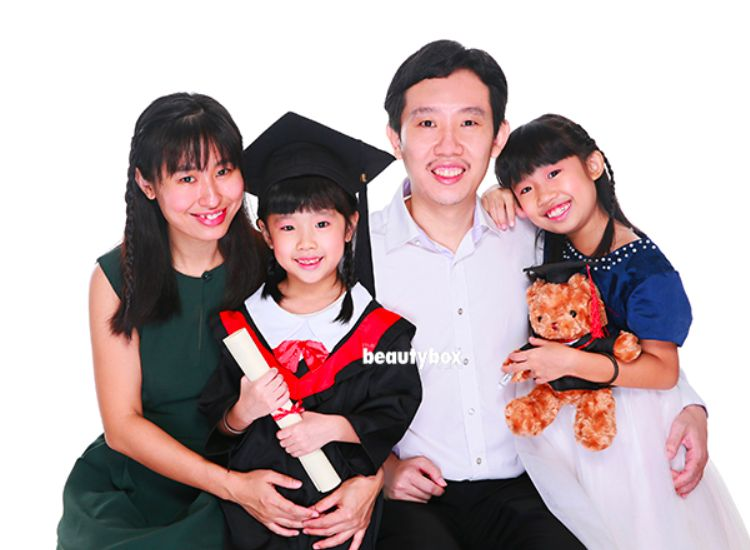 Beauty Box Studio is run by a team of highly-experienced photographers and creative professionals whose only goal is to provide exemplary service and create wonderful images of your graduation. Moreover, if you do decide to work with Beauty Box Studio, you will no longer need to search and book your own hair and makeup stylist. Beauty Box Studio's in-house stylists are proficient with the latest beauty trends.
Rates:
Depending on your requirements, the rates can range from $288 for a solo photoshoot to $588 for the whole family.
Beauty Box Studio
Address: 452 North Bridge Road,#02-00 Chan Brothers Bldg
Singapore 188733
Contact number: +65 68353012
Website: beautyboxstudio.com.sg
4. Firefly Photography
If you are aiming to have a quick, hassle-free family graduation photoshoot, Firefly Photography may be your best bet. The studio has been in the photo studio business for more than ten years. The company comprises several multi-disciplinary photographers and videographers ready to tailor their services to your requirements. This is actually not the first time I included Firefly Photography in my Top 7 Best list. Firefly Photography was a top contender in my Top 7 Best Newborn Photography Studios in Singapore. The company is highly-recommended due to their experience. Whatever photoshoot requirements you need, they can absolutely execute it. For your graduation photo shoot needs, Firefly can provide a package specially designed for this memorable milestone. In fact, Firefly is currently doing a special promotion for graduating students!
Firefly Studio's graduation photoshoot package ranges from $320 to $680. If your photoshoot is straightforward, you can avail the $320 package will include one hour of unlimited shots, a premium graduation backdrop, a graduation gown, and more. Meanwhile, the $680 package includes a two-hour unlimited shots session, special canvass prints, makeup and hairstyling, premium background, and more.
Regarding flexibility, Firefly's graduation packages are the best on this list. The company provides plenty of top-up options, such as additional pax, express options ( so you can receive your photos within seven working days), add-on frames, etc.
Why You Should Choose Firefly Photography
Singaporeans have trusted Firefly Photography since 2012. Their customer-centric policy has continuously made clients happy and created outstanding images. The company, founded by Benny Chow, has been honing and developing its craft based on ten years of service. So expect them to already know your needs even without telling them.
Rates:
Prices range from $320 to $680 depending on your requirements
Firefly Photography
5. Serangoon Broadway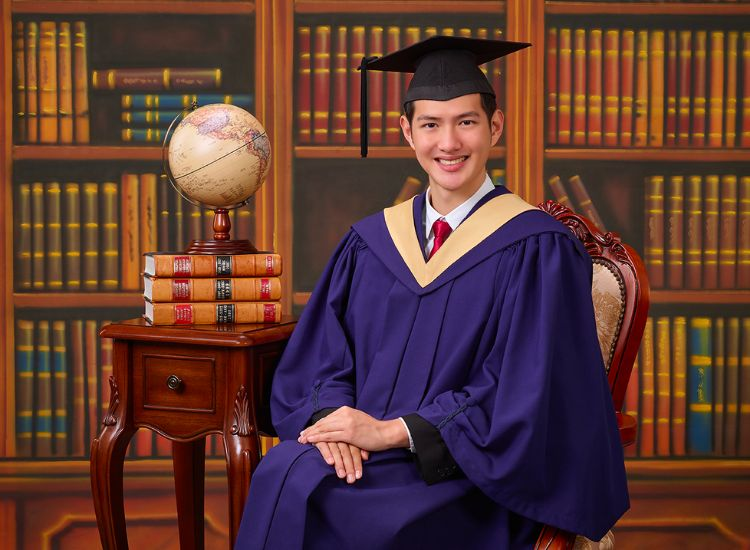 Serangoon Broadway has been around since 1960. Back then, the studio specialized in wedding photography. Over the years, the company started receiving other photography requests. By the '90s, Serangoon Broadway slowly expanded to family and graduation photography. Today, the studio highly specializes in graduation photography. In fact, Serangoon Broadway is the official vendor for Singapore's most prestigious schools, such as the National University of Singapore, Nanyang Technological University, Singapore University of Social Sciences, and more. Aside from photography, these universities have also outsourced their graduation supply needs to Serangoon Broadway.
If you're making arrangements for your graduation, you may want to visit them at Serangoon Road. The studio is a one-stop shop for graduating students, complete with photo studio rentals, graduation gowns, family photo services, solo shots, and more.
Students can log into Serangoon Broadway's website to make an appointment for official academic dress needs, administrative assistance, and photography and videography services. If you are considering having your photoshoot done in Serangoon Broadway, you can choose from their wide array of options. Prices vary depending on your needs, whether you're having an individual or family photoshoot. Moreover, Serangoon Broadway is currently offering a 20% discount on all packages.
Why You Should Choose Serangoon Broadway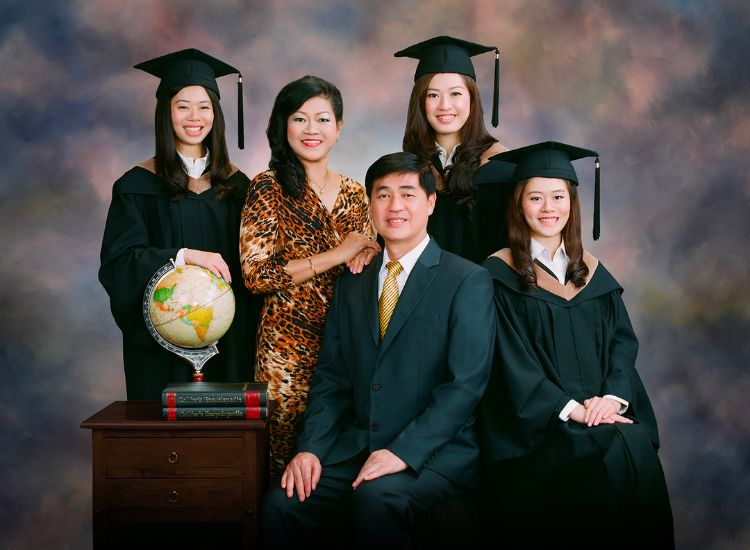 Of all the photo studios on this list, Serangoon Broadway has the most experience in dealing with professional graduation photo needs. They have been a trusted vendor for Singaporean universities for over ten years. Since the studio was hired by many universities as the official graduation ceremony photographer, students can avail of additional services, including taking extra photos during academic processions. If you want to cherish everyone moment of your graduation, you can also ask them to capture your moments during the reception and take group shots of you and your friends.
Rates:
Rates vary from $180 for individual shots to $380 for individual plus family depending on your requests,
Serangoon Broadway
6. ABC Photography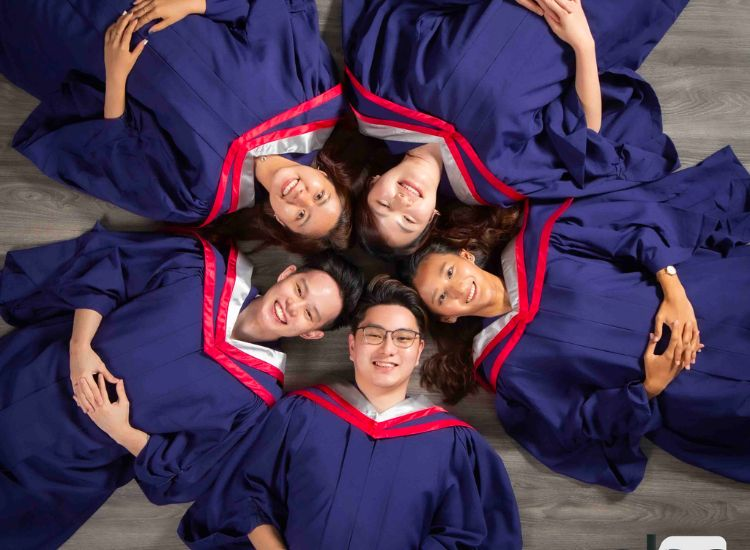 ABC Photography was founded in 2006. The company began as a small studio specializing in photos for graduation, babies, kids, families, and maternity, among others. ABC Photography's 16 years of experience have helped them become one of the most established photo studios in the city. Over the years, the company has gained the trust of big companies, such as Manulife, Far East Organization, Century 21, AIA Singapore, and more.
ABC Photography offers several graduation photoshoot packages. Their rates range from $598 to $998.
The packages may include the following:
• 1.5 hour or 2 hour photo session
• Soft copies, makeup, and hair styling for 2 to 4 persons
• Two outfit changes
• Graduation gowns rental
• One outdoor location,
• Custom-made albums
• Canvass prints
Why You Should Choose ABC Photography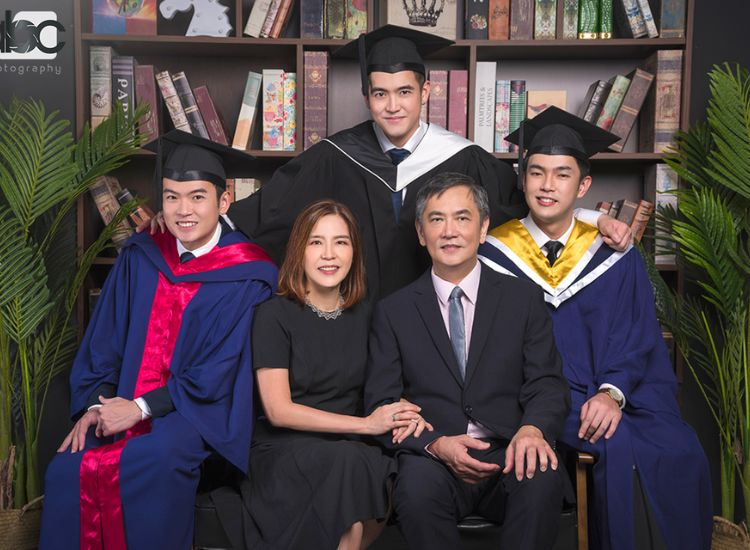 Although ABC Photography is on the pricier side, their photos speak for themselves. Ultimately, ABC Photography has produced fantastic pictures of students and their families – these images can be viewed on their official website. Aside from pretty great pictures, ABC Photography has been lauded for their exemplary service and the staff's friendliness.
Rates:
ABC Photography provides premium graduation packages from $598 to $998.
ABC Photography
7. EO Digital Photographics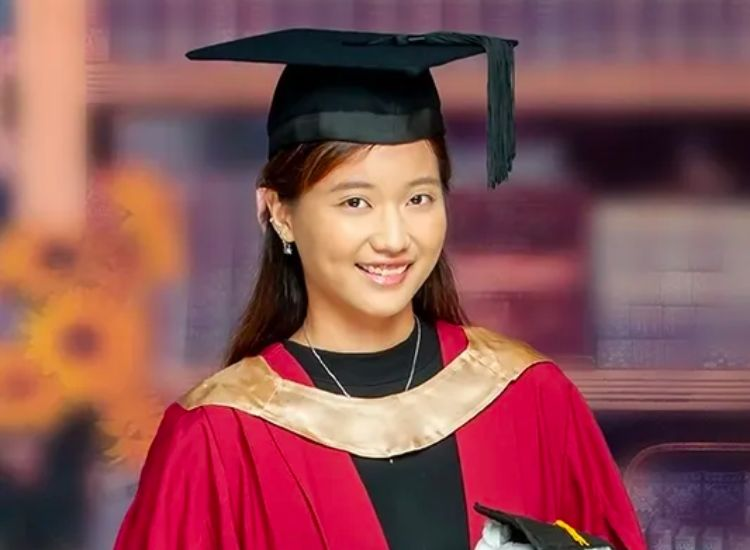 EO Digital Photographics is a time and service-tested photo studio near Woodlands. Since 2004, EO Digital has provided a wide range of photography and retouching services. The studio is led by an award-winning photographer, Vince Yeo, who has over two decades of experience. Since 2011, EO Digital has been servicing large-scale events, including graduations. EO Digital's clientele includes Nanyang Technological University (NTU), Republic Polytechnic, Temasek Polytechnic, Ngee Ann Polytechnic, and Nanyang Polytechnic.
Besides graduation photography services, the company is also a trusted vendor of numerous corporations. Over the years, EO Digital Photographics has successfully executed campaigns for renowned brands and companies like Nuskin, Renci Hospital, Tokio Marine, XP Power, Defu food, Synechron, and Platinum Equity.
Today, EO Digital Photographics specializes in graduation and family photo services. The services can be done in the studio or outdoor settings. If your budget is a little tight and you just want to take a solo graduation shot, EO Digital provides the best rate on this list. Their individual graduation package costs only $128. If you want to bring friends or family to your shoot, the rates are slightly higher, ranging from $228 to $698.
Why You Should Choose EO Digital Photographics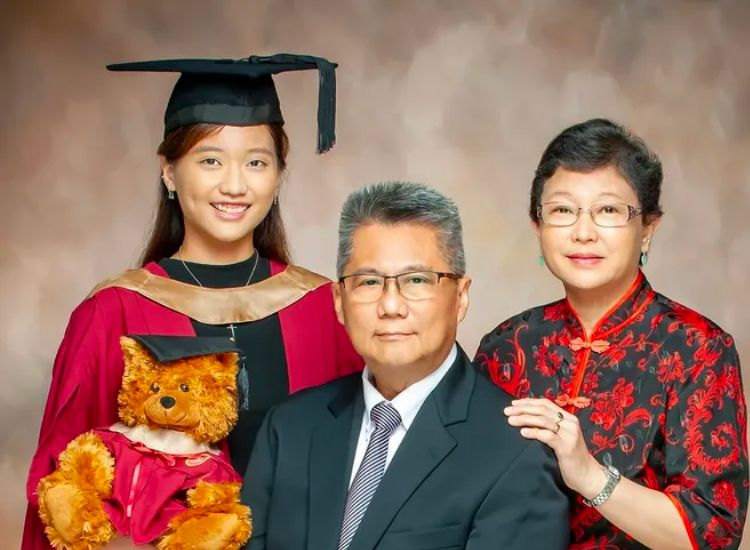 EO Digital Photographics is a trusted vendor of Singapore's most prestigious universities. In fact, the studio is the official photographer for Nanyang Technological University for the 2022 to 2023 convocation class, Republic Polytechnic 2022 graduate class, and Temasek Polytechnic 2022 graduate class. The studio is adept at handling graduating students and produces pretty incredible images. EO Digital also offers well-rounded services, including digital retouching, printing, and framing services.
Rates:
Prices range from $128 to $698, depending on how many family members you want to bring to the session.
EO Digital Photographics
8. White Room Studio
White Room Studio has a stellar team composed of two creative directors, five highly-skilled photographers, and an excellent digital imaging artist. Overall, the team has 75 years' worth of experience in photography. White Room Studio was founded by award-winning photographers Elaine Lim and Dan Yeo. The two highly talented siblings now run the studio as creative directors and have recruited some of Singapore's most talented photographers.
With regard to graduation photoshoots, White Room Studio offers various services, from makeup to graduation gown preparation. Their clientele includes those from National University of Singapore (NUS), Nanyang Technological University of Singapore (NTU), NIE Master's, Singapore Institute of Technology (SIT), Singapore Management University (SMU), Singapore University of Social Sciences (SUSS), Curtin University, Monash University, University of London, and so much more.
Apart from the wide range of universities they cater to, White Room Studio also offers a wide array of packages to help you commemorate this momentous occasion. These packages include 1.5 hours of photography, a choice of 3 backdrops, and various prints of your photos. That said, if you cannot decide yet, you can have your shoot and decide then. Also, if you want to include your furry friend, you can, as the studio is pet-friendly and has worked with a lot of animals before.
Why Should You Choose White Room Studio
White Room Studio has photographed over 6,000 graduates and counting over the past 13 years. They are highly flexible and willing to accommodate you and your family with regard to your graduation photo needs. The studio has also been Tatler's Best of Singapore "Best Portrait Photographer" for 6 years running! As such, you can guarantee that if you choose this studio, you will get stunning photos that will help you commemorate this amazing milestone.
White Room Studio
Address: 219 River Valley Road. Level 2, Singapore 238277
Contact number: +65 6235 7037/ +65 8769 6003
Website: whiteroomstudio.com.sg
9. Gloria Photo Studio
Established in 1986. Gloria Photo Studio is the leading purveyor of high-quality photography services in Singapore. The studio initially began by offering full bridal services. Due to their amazing work, they have garnered a plethora of accolades, clinching the first and second prizes in the Fuji/Kodak Bridal Photography Competition.
With regard to graduation photoshoots, Gloria Photo Studio is the first studio in the country to provide this service. They boast a wide collection of official graduation regalia for any graduation shoot, whether from Singapore, the United Kingdom, the United States, Canada, Australia, New Zealand, and China.
Why Should You Choose Gloria Photo Studio
Gloria Photo Studio, being one of the oldest studios that offer graduation photoshoot packages, maintains an extensive portfolio showcasing its high-quality, aesthetically pleasing graduation photographs. As such, you can be assured that the photos they will take will be of high quality. That said, they are known to be highly adaptable, and willing to adjust according to you and your family's needs. This includes being flexible with the graduation packages they offer.
Rates
The studio offers at least seven different graduation packages. They start off at SGD $99 and can reach up to SGD $1050.
Gloria Photo Studio
Address: 1 Irving Place, #06-13, The Commerce @ Irving
Contact Number: +65 6538 4883
WhatsApp: +65 9298 4276
Email: customercare@gloriaphotostudio.com
Operating Hours: Tues & Thu to Sun, 12 pm to 7 pm. Closed Wednesdays
10. Bespoke Photography
Boasting a combined 20 years of experience in the photography industry, Bespoke Photography's skilled team of 10 photographers excels at immortalising precious moments in a truly captivating manner. They ensure every photo shoot is a guided experience, teaching you to pose and smile naturally to create your dream photographs.
While their main expertise lies in outdoor photoshoots, they're equally proficient in conducting sessions within their studio or on campus. Additionally, they provide the option to have your photos captured in bustling CBD locales or amidst the serene beauty of picturesque locations like the Singapore Botanic Gardens.
Why Should You Choose Bespoke Photography?
In contrast to many others on this list, this studio stands out for its flexibility, accommodating both in-studio and outdoor photoshoots. This adaptability allows graduates and their families to celebrate their significant milestones in a manner that's uniquely personal to them. Additionally, customer reviews highlight not just the stunning photos they produce, but also the exceptional experience they provide, marked by a high degree of professionalism and commendable cooperation.
Rates:
Outdoor Photoshoot: $250/hour
In-studio photo shoot: $350/hour
Bespoke Photography
Address: 125 Geylang East Ave 1, Singapore 381125
Contact number: 8338 1249
Email: hello@bespokephotography.sg
Website: https://www.bespokephotography.sg/
11. Werkz Gallery
Established in 2001, Werkz has accumulated a wealth of experience over the years through its unique partnerships with established educational institutions. Being one of the pioneers to introduce digital photography to portrait studio set-ups, Werkz believes in not only keeping abreast with the latest trends and techniques but to pursue and evaluating new opportunities to reach people in more meaningful ways.
With regards to graduation photography, they are a rather popular studio, especially for those on a budget. That said, their clientele includes graduates from Duke-NUS Medical School, Griffith University, National University of Singapore (NUS), Singapore Management University (SMU), and RMIT University.
Why Should You Choose Werkz Gallery
Providing top-tier, professional-standard photographs at a reasonable cost, Werkz Gallery's photographers excel in fostering a relaxed atmosphere. They expertly guide you through various poses and expressions to capture your best angles. If you're seeking a studio that pairs affordability with high-quality service to help celebrate your graduation milestone, Werkz Gallery could be an excellent choice for you.
Rates:
Package A: $250
Package B: $150
Werkz Photography
12. Bambini Photography
Founded in 2009, Bambini Photography has carved out a niche for itself in the arena of people portraiture. Their areas of specialisation span a wide range, including maternity or pregnancy photography, newborn photography, family-oriented photoshoots, event photography, as well as professional corporate and graduation portraits.
The team at Bambini Photography consists of a dynamic group of dedicated photographers, designers, photo editors, and customer service and support teams to ensure that your experience in preserving a momentous milestone such as a graduation is an unforgettable one.
Having said that, Bambini Photography prides itself on its versatility and inclusivity. As such, regardless of the educational milestone you've achieved, be it kindergarten, ITE, polytechnic, high school, university, or Military School, Bambini Photography is equipped and eager to cater to your specific needs.
Why Should You Choose Bambini Photography
Bambini Photography understands that every graduation, regardless of the stage, is a significant achievement worthy of being commemorated. As such, they endeavour to capture these pivotal moments, transforming them into keepsakes that can be cherished for years to come. In order to do this, their team will work closely with you to ensure they understand your needs and preferences and deliver results that truly resonate with your expectations.
In addition, based on customer reviews, they are highly rated for being very professional and accommodating. They also applaud their fast turnaround, letting you receive the photos four to five days after the shoot.
Bambini Photography
Address: 62 Ubi Road 1 #10-24, Oxley Bizhub 2, S408734
Contact number: +65 8717 1558
Website: bambiniphoto.sg
13. Tomato Photo Studio
Whether you're commemorating a grand convocation ceremony or seeking a more personalised graduation photoshoot shared with close friends and family, Tomato Photo Studio stands ready to meet your needs. While it may initially seem surprising that this award-winning studio is spearheaded by a single photographer, Hart Tan, do not be deterred by the seemingly limited choice. The studio's ethos revolves around the belief that quality supersedes quantity.
At Tomato Photo Studio, the photoshoot experience is as important as the final photos itself. As such, whether you are looking for a more casual session or even a formal one, this studio can cater to you. At the guidance of Hart Tan, your personality will shine through.
Why Should You Choose Tomato Photo Studio
Hart Tan possesses a remarkable knack for crafting an environment that is both comfortable and uplifting, encouraging the emergence of genuine expressions. As a result, the photographs he captures are a true reflection of not only your accomplishment but also your unique personality. This skill has rightfully earned him a reputation as one of Singapore's most distinguished photographers. Therefore, if you desire the assurance of superior quality photos and a fantastic photoshoot experience, selecting Tomato Photo Studio would be an excellent choice.
Tomato Photo Studio
Address: 62 Ubi Road 1 #10-23, Singapore 408734
Contact number: +65 88580088
Website: tomato.sg
14. Portrait Gallery Photography
Established in 1990, Portrait Gallery Photography carries an impressive legacy spanning over three decades in the field of family and graduation photography services. With their rich experience and consistent delivery of quality, they've become a trusted choice for many graduating students looking to commemorate this pivotal achievement.
The Portrait Gallery team is comprised of three outstanding photographers, each bringing their unique expertise and specialisation to the table. This diverse talent pool allows them to cater to a wide array of photography needs, ensuring every client finds a perfect match within their team.
That said, when it comes to graduation photoshoots, Matthew Tan is the specialist who takes the helm. With a discerning eye for perfect poses and ideal lighting, he's well-equipped to transform your graduation moments into captivating memories.
Why Should You Choose Portrait Gallery Photography
Portrait Gallery Photography's three-decade-long presence in the industry serves as a powerful testament to the trust and confidence they've built among their clients. This long-standing operation is not just an indicator of their resilience in the dynamic field of photography, but also a reflection of the consistent quality and dependability of their work that has stood the test of time.
Countless customer reviews speak volumes about their business standards and work ethic. Clients frequently laud Portrait Gallery Photography for their remarkable level of professionalism. They not only deliver on their promises but also maintain a respectful and courteous demeanour throughout the entire process, ensuring a comfortable and enjoyable photoshoot experience.
Rates:
Portrait Gallery Photography
Address: 315 Outram Road #02-10, Tan Boon Liat Building, Singapore 169074
Contact number: tel:+6562209757
WhatsApp: +(65) 91115783
Website: https://portraitgallery.com.sg/
15. Raffles Studio
Raffles Studio is a seasoned provider of graduation, family, and corporate portrait photography. With a legacy dating back to 1947, their approach is rooted in a wealth of experience and a timeless, classic style. Beyond providing in-studio photoshoots, they also offer their services for on-location shoots at events like graduation ceremonies.
They possess an extensive array of academic gowns from both local universities and numerous institutions abroad. This vast collection ensures that graduates can wear the appropriate regalia to represent their alma mater accurately. In addition, men availing their services have the option to utilise complimentary jackets and ties for their photoshoots. This attention to detail and commitment to authenticity adds a layer of convenience and professionalism to the experience provided by Raffles Studio.
Why Should You Choose Raffles Studio
The team at Raffles Studio is driven by their passion for capturing special moments. Their track record offers clients the assurance of quality, consistency, and reliability. Their flexibility in providing both studio and on-location photoshoots at events like graduation ceremonies adds a layer of convenience and customization for their clients. Moreover, their extensive collection of academic gowns, representing not just local but also international universities, guarantees authenticity in your graduation portraits. These elements combined make Raffles Studio an excellent choice, offering not only expertise and experience but also an eye for detail and a deep commitment to customer satisfaction.
Rates:
Individual photoshoot: $180
Family photoshoot: $280
Raffles Studio
Address: 116 Lavender Street #01-05 Pek Chuan Building Singapore 338730
Contact number: 6324 4423
Operating hours: Tues – Sun 1100hrs to 1700hrs
Website: https://rafflesstudio.com/
16. Momo Studio
Momo Studio specialises in pet photography. That said, this should not deter you from choosing them as your graduation photo studio. Their talent extends to people's portraiture as well. In fact, given their penchant for taking photos of beloved pets, their team of photographers are known to be patient and calm as they help you commemorate your milestone.
By choosing Momo Studio for your graduation photos, you'll be treated with the same care, patience, and calm demeanour that they extend towards their four-legged subjects. This approach can be particularly beneficial if you're not accustomed to being in front of the camera, as their gentle guidance can put you at ease and allow for the capture of more natural, candid shots.
Why Should You Choose Momo Studio
While their forte may lie in pet photography, their distinctive expertise equips photographers at Momo Studio with a unique set of skills. These skills, when applied to their work in graduation and people portraiture, resulting in a memorable, stress-free photo session and timeless images that you can cherish as you commemorate your significant milestone.
Many of their customer reviews can attest to this as they claim that they had a really a great experience with their photoshoot. In addition, since the studio is pet-friendly, graduates appreciate not only having their human families in their graduation photos but their furry family members as well.
Momo Studio
17. MacPherson Photo Studio
Situated in the heart of Singapore, MacPherson Studio has made its mark by providing premium family and graduation studio photoshoots. Their experienced and professionally trained photographer has a keen ability to encapsulate your graduation moment in the form of high-quality images. Basically, they don't just point and shoot. Rather, they take the time to guide you through the process to make sure every shot is a perfect blend of your personality and the joy of your accomplishment.
Located conveniently on Paya Lebar Road near the Pan Island Expressway, accessing MacPherson Studio is a breeze. This strategic location is just a stone's throw away from important transport links, making it an easily accessible option for clients from various parts of the city. Specifically, the studio is a mere two-minute walk from the MacPherson MRT station, served by both the Circle and Downtown lines, which further enhances its accessibility.
Why Should You Choose MacPherson Studio
MacPherson Studio isn't just about a venue or a service – it's about an experience. Their dedicated team goes above and beyond to ensure each client's comfort and satisfaction. This is seen from the moment you step into their studio until the day the photos are delivered. Their quality service and expert guidance, coupled with their convenient location make MacPherson Studio an excellent choice to celebrate and capture your graduation milestone.
Rates:
MacPherson Photo Studio
Address: 14 Arumugam Road, LTC Building C, #03-08, Singapore 409959
Contact number: +65 98795173
Website: https://www.macphersonstudio.com.sg/
***
Graduation is absolutely a milestone worth documenting. Your hard work throughout the years has finally resulted in this moment. Professional graduation photoshoots are an excellent way to make your moments memorable and enjoyable. So go ahead and get in touch with your preferred photo studio and take those lovely formal, casual, and candid shots with your friends and family!